George Georgiou joins the Eastreet Curators team!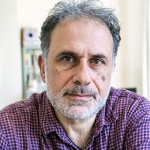 We are excited to announce, that the Curators team will be joined by a special guest this year – renowned photographer, editor and tutor, George Georgiou.
He will not only share his knowledge and experience during the selection and editing process, but will also lead a photography workshop "Urban Geographies. Storytelling". It will be one of several educational events accompanying this year's edition of Eastreet during the exhibition opening weekend on 10-12 July 2015 in Lublin.
The detailed schedule of all workshops and application terms will be published in early May, stay tuned!