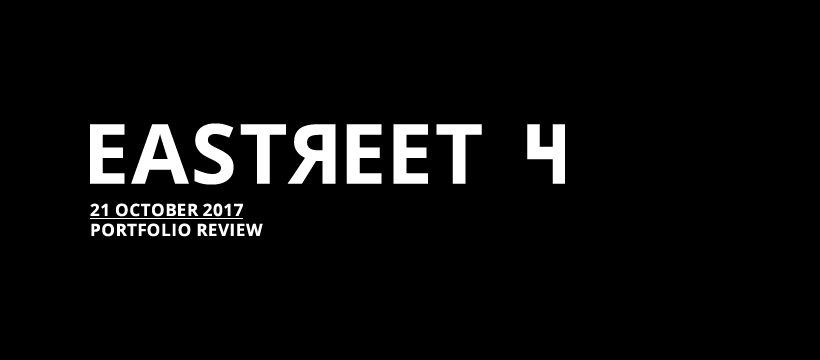 Portfolio review is a unique opportunity to present and discuss your work with the Eastreet curators – Joanna Kinowska and Tomasz Kulbowski, as well as experienced professionals: Zbyszek Kordys and Bartek Molga. 
21 October 2017, 18:00
Centre for the Meeting of Cultures in Lublin, Poland
Through these reviews participants will gain a vital feedback on their portfolio or project development, expand their professional knowledge and exchange ideas. Each review review session will last 20 minutes and can select preferred two, from four available reviewers. Spaces are limited, so we would like to ask you to submit the application form below, with a sample of the work you would like to review. Also please tell us more about your requirements or goals for the review, and state which two reviewers you are most interested to meet. The review time is limited, so please bear in mind we may not be able to give you all the reviewers you request (although we'll do our best). Participants selected by the reviewers will be notified by 2nd October. Exact hourly schedule of the reviews will be sent to each participant one week in advance. Please arrive on time.
Portfolio reviews are FREE. Applications accepted until 29th September.
Application form
[contactformgen id=13]
Reviewers
Joanna Kinowska – Art Historian specialising in photography. Independent photography curator and photography publications editor. Works at Służewski Dom Kultury where she manages educational programmes, especially "Place of Photography". Author of photography-related articles, blogger and creator of Miejsce Fotografii. Teaches at the Academy of Photography in Warsaw. The curator of the Eastreet project.
Zbyszek Kordys – photographer, educator. For many years involved in fashion and advertising photography. Worked with such magazines as "Viva", "Gala" or "Zwierciadlo" and numerous Warsaw and Lower Silesian advertising agencies. He specializes in complex preparation of exhibitions. He runs a PrintShop1923 lab and teaches how to take photos. Zbyszek is a specialist in post-production photography. Can tell you everything about developing, scanning, printing, color management, etc.
Tomasz Kulbowski – photographer based in Lublin, Poland. He teaches street photography workshops in different countries. He is a member of the street photography collective Un-Posed and the originator and director of the Eastreet project. The large part of his work is dedicated to the South-East Asia region, which he's been documenting for the past 8 years, including the issues of mass tourism. Tomasz is interested in exploring the interaction between the people and environment, between the private and public space. He's intrigued by photos leaving more questions than answers. Looking for interesting and original explorations of the boundaries of street photography genre. Website
Bartek Molga – photographer, photojournalist. He worked in nationwide titles such as "Gazeta Wyborcza", "Newsweek Polska", "Dziennik Polska Świat", "Rzeczpospolita". Currently associated with the publishing house "Czerwone i Czarne" and the commercial press. Bartek teaches how best to edit and select photos, how to decide what to keep and what to reject. Website