Documentary photography workshop with George Georgiou
10-12 July 2015 / Lublin, Poland
How different people use the city through the day, how new layers of architecture, signage and street furniture add to what was already there. How different social, economic and ethnic groups appropriate, shape and adapt to the city. – George Georgiou on his project "Last Stop"
"Urban Geographies. Storytelling" workshop, lead by George Georgiou, offers a three-day intensive photography experience within the unique space of Lublin, Poland. Workshop focuses on exploring the public space and its complexity and the skills needed to develop a story that fits each participants' style of work and concerns.
George Georgiou will lead the group through the process of constructing the subject matter and its treatment, shooting, editing and sequencing of the images, reviews, group critiques, mentoring – providing the opportunity to learn and improve one's photographic skills of storytelling. The workshop will help you master composition and develop your visual literacy, while refining practical and conceptual approaches to develop a narrative skills.
The number of participants is limited to 10, to ensure an intimate and inspiring atmosphere. The workshop will take place in the Old Town district of Lublin – a city which for centuries was a meeting point of different cultures, nations, religions, languages. The event accompanies this year's edition of Eastreet – a project dedicated to street and documentary photography from Eastern Europe.
WORKSHOP PROGRAMME:
Day 1 / Friday 10 July 2015 / 10:00-18:00
George Georgiou will introduce his work and latest projects and share his photographic street and conceptual photography references. Portfolio critique will take place in a group context and possible assignments on the territory will be defined and discussed trying to adopt the shooting within participants' own projects, concerns and different approaches.
Day 2 / Saturday 11 July 2015
All-day project shooting. George will also be available for one-to-one sessions.
Day 3 / Sunday 12 July 2015 / 10:00-18:00
Final portfolio edit-and-critique sessions with George Georgiou, where participants are encouraged to discuss and critique their work within the group. Through selecting and discussing their best images, participants will be guided towards refining their own photographic style and defining their overall approach to find improvements.
WORKSHOP FEE: 150EUR (or 600PLN)
WORKSHOP FEE for Eastreet authors from all three editions: 100EUR (or 400PLN)
(Workshop fee does not include travel, accommodation or on the ground expenses)
PARTICIPANTS: maximum 10 participants. The workshop is targeted at professional photographers and advanced amateurs. The workshop will be held in English language.
APPLICATION DEADLINE: 15 June 2015. The organisers will contact all selected participants with the confirmation and payment details.
ABOUT GEORGE GEORGIOU: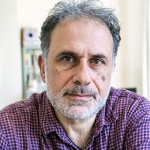 George Georgiou was born in London in 1961. He received a BA honours in photography, film and video arts from the Polytechnic of Central London (University of Westminster) in 1987. In 1999 he joined Panos Pictures in London and began to work exclusively on his own long term projects.
He has photographed extensively in the Balkans, Eastern Europe and Turkey, living and working in Serbia, Greece and Turkey from 1999 to 2009. Work from this period has been published in most of the world's major magazines as Newsweek, Time, The Sunday Times, Geo, Die Zeit, Der Spiegel, La Vie, Le Monde, and exhibited in many countries and has resulted in The British Journal of Photography project prize 2010, two World Press Photo prizes in 2003 and 2005, Pictures of the Year International first prize for Istanbul Bombs in 2004.
In 2010, his book "Fault Lines: Turkey/East/West" was released and exhibited international. This work was included in the prestigious "New Photography 2011″ exhibition at the Museum of Modern Art, New York. His latest project "Last Stop" was self-published in October 2014 and is currently being exhibited in Europe, receiving warm attention by audiences and critics worldwide.
Georgiou's work is collected by several institutions and private collectors, including the Museum of Modern Art, NY and the Elton John collection. He is represented by agencies Prospekt (Italy) and Panos (UK).
APPLICATIONS CLOSED
---
Education programme is organised with the financial support of the City of Lublin.
Blok edukacyjny został zrealizowany dzięki wsparciu finansowemu Miasta Lublin.

Partner of the education programme: Centre for Culture in Lublin
Partner programu edukacyjnego: Centrum Kultury w Lublinie